STEAM TRAIN DIARY - svsfilm.com/diary
Steam train events in US and Canada
---
NOTE ALL SPECIAL EVENTS AND TOURIST RAILROAD OPERATIONS MAY BE SUBJECT TO CANCELLATION OWING TO THE COVID-19 OUTBREAK - PLEASE CHECK WITH OPERATOR BEFORE TRAVELLING
This listing is maintained for personal use and is not intended to be a complete diary of steam train events in the USA and Canada. SVS Film will not be responsible for any errors or omissions, nor will be responsible for any expenses or other costs incurred as a result of the information printed here. All schedules are subject to change without notice. PLEASE DO NOT USE THIS SCHEDULE TO MAKE TRAVEL PLANS WITHOUT CHECKING WITH THE RAILROAD/OPERATOR FIRST.
Some entries are shown as To be confirmed . This indicates that early information has been learnt, but has not been verified by the proposed operating organisation!!
We would welcome any comments, corrections or updates by email ESPECIALLY if you are a tourist railroad, or operator of a preserved steam locomotive!
---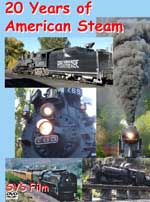 '20 Years of American Steam' new DVD from SVS Film featuring action footage filmed since 1997. From a narrow gauge Shay to the 'Challenger', many of the finest US steam locomotives are represented. Just 15.00 GBPounds (PAL format) or US$19.95 (US NTSC) it's great value for a 104 minutes film.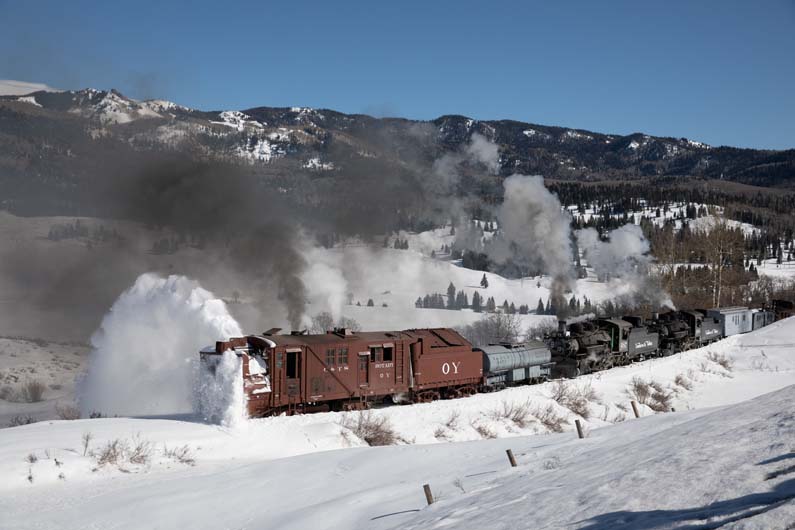 Photo of the week:
Cumbres & Toltec Scenic Railroad ex-D&RGW rotary snow plough 'OY' in action between Chama and Cresco at the 'S' curves assisted by K-36 2-8-2's 484 and 487. February 29 2020.
Copyright © Thomas Schultz 2020
---
'Photo of the Week' picture contributions always considered for possible inclusion - copyright credit given - submit .jpg file by email to SVS Film.

Latest Steam Train Diary updates 2022
NOTE ALL SPECIAL EVENTS AND TOURIST RAILROAD OPERATIONS MAY BE SUBJECT TO CANCELLATION OWING TO THE COVID-19 OUTBREAK - PLEASE CHECK WITH OPERATOR BEFORE TRAVELLING
---
[Jan]
[Feb]
[Mar]
[Apr]
[May]
[Jun]
[Jul]
[Aug]
[Sep]
[Oct]
[Nov]
[Dec]
---
Diary for 2022
---
May 2022
---
June 2022
---
July 2022
---
August 2022
---
September 2022
---
October 2022
---
November 2022
---
December 2022
---
Diary for 2023
---
Earlier 'Steam Train Diaries':
2004 - February - June ... July - December
2005 - January - June ... July - December
2006 - January - June ... July - December
2007 - January - June ... July - December
2008 - January - June ... July - December
2009 - January - June ... July - December
2010 - January - June ... July - December
2011 - January - June ... July - December
2012 - January - June ... July - December
2013 - January - June ... July - December
2014 - January - June ... July - December
2015 - January - June ... July - December
2016 - January - June ... July - December
2017 - January - June ... July - December
2018 - January - June ... July - December
2019 - January - June ... July - December
2020 - January - June

---
Copyright © SVS Film / John McIvor 2004-2022

Return to SVS Film Index