The Impulsoria
Lucy Evans from the British Library has contacted the Nine Elms 'Shedmaster' telling the story of the Impulsoria:
Way back in June 1850 an Italian invention by Clemente Masserano, called the Impulsoria - a horse powered locomotive - ran at Nine Elms for a few days trial. It later ran at the Crystal Palace Exhibition in 1851 but then was sold off and I have no idea what happened to the machine after that though it may have gone to Germany.
I'm writing a book about the inventor/librarian Andrea Crestadoro (1808-1879). Crestadoro helped Masserano with the Impulsoria and later added his own improvements. and took it to the Crystal Palace. The trial at Nine Elms is described at length in the Illustarted London News with a detailed picture of the Impulsoria.
Hamilton Ellis in his history of the South-Western Railway gives a full account but gives no sources :
"A quaint thing happened at Nine Elms in 1850, suggesting that there were still many who believed money could be saved by scrapping steam and, by mechanical transmission, getting much more out of a horse than Nature had put into him. Clemente Masserano, a Piedmontese, brought from Italy a thing which he called an Impulsoria. Briefly it comprised a 2-2-0 locomotive frame and wheels bearing an endless moving platform on which two horses trotted. It had a multi-speed gear formed by slip pulleys and ropes, in fact it was Brandeth's old Cylopede with improvements. Massearno, having got the ears of the South Western directors, pointed out to them that horses cost two shillings a day while steam locomotives burnt sixpennyworth of coal a mile, and was smilingly given a break at Nine Elms. Certainly, the Impulsoria worked. It could pull 30 wagons up the incline of Nine Elms Goods, and two horses could give it a speed of 7 m.p.h. With four horses, in top gear, it ought to be able to run faster than the South Western engines, 'even at 60 m.p.h. without ever altering the usual walking pace of the horses.' Goodness knows what Mr. Gooch made of it, but he was apparently polite to Masserano and gave him every facility. No Impulsoria were ordered by the London and South Western Railway, but the machine deserves respect, if only because its axles had roller bearings."
So plenty on the actual event BUT what I can't track down is the mysterious connection between the Bridge Inn, North End, Yatton that had a sign for the Impulsoria -
This is the description from the Dictionary of Pub Names -1987:
"Bridge itself is common, though the sign of this pub at Yatton, Som (referring to the bridge over the Bristol Exeter railway built in 1841) is unique in showing an 'Impulsoria'. This was a contraption (invented in 1850) with outsize wheels and a chain drive which enabled two horses to supply the power instead of the usual locomotive."
I have managed finally to track down a photo of the vanished sign - the sign shows the 1850 run at Nine Elms: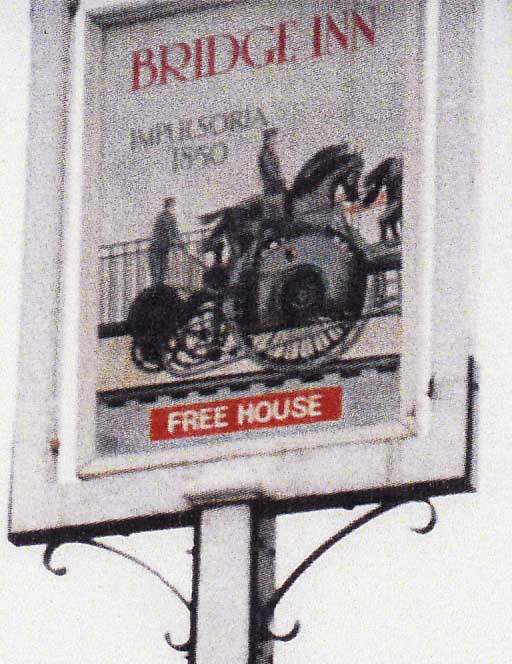 I'm not sure if the branch line by the Bridge Inn was the Somerset-Dorset rather than the Bristol-Exeter but whichever it was what is the link with Nine Elms? I don't even know when the sign first appeared but it was definitely there in the 1980s-1990s but of course may well be older.
I'd be so grateful for any ideas but know it is a needle in a haystack quest!
If you have any further information/comments on the story of the Impulsoria, please contact the shedmaster@nineelms.svsfilm.com
---
Return to History index